We all know that the average Internet surfer has an attention span of about 8 seconds. That's not that long. In fact, a gold fish has a longer attention span (about 9 seconds). As a website owner you want people to stay on your website as long as possible and be engaged, maybe even buy your product or service. So how do you do it? You create eye-catching presentations. Here are 10 software tools that help you create eye-catching presentations to add to your website.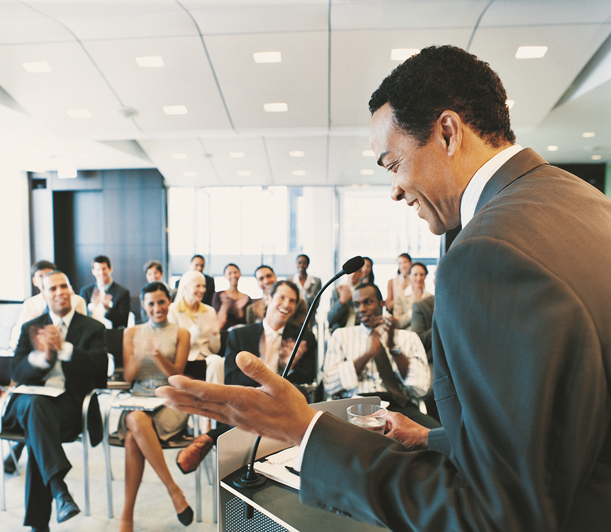 GoAnimate
Create animated videos with this app. Assemble predesigned bacgrounds and animated pictures then upload your logo, audio and maybe even video. Then distribute it through YouTube.
Haiku Deck
This is an app for the Apple iPad, which lets you create pie charts, bar graphs and stats easily using drag and drop controls. There are preformatted themes and millions of photographs you can use.
Prezi
Consider using Prezi for presntations. This app doesn't move from slide to slide but in mindmap form, according to the flow you want for your presentation. The software lets you zoom in and out as needed to present your ideas.
SmartDraw
This is a great app for flow and organizational charts. It's also great for floor plans and diagrams. Use visuals in Google Docs, Microsoft Word, PowerPoint and Visio.
ThingLink
This lets you create images and context of all sorts. You can include audio and videos, as well as text from resources. It's like placing captions within a photograph, so that when you mouse over the image the content becomes visible.
PowToon
Get an entire suite of animated characters and templates to create special effects presentations. The presentation looks so professional it draws your audiences attention and they will think that a professional designer created it.
RawShorts
An easy to use video editing app that draws characatures. Use a preset short film and just add your business information; or create your own. The interface is very simple to use and there are tutorials to help you along. Diffferent pricing options are available, including a free version.
Sparkol VideoScribe
One of the first animation video editing software applications available, but still popular among users. This is software that sketches out characters or images for the audience. It brings a story to life in just a few seconds. It works well for online presentations, not necessarily as well for live presentations.
Slide.es
Offers a great app for slide presentations. This tool creates perfect looking presentations that don't require special effects or animation. You do need to have great images as there aren't templtes available here but it is HTML5 based so it integrates with movable gifs.
SlideShark
A powerful presentation app that lets you make presentations out of PDFs, HTML files and web pages, all from your smartphone or tablet. It also offers support for PowerPoint and offers social sharing options.
Best Wordpress Hosting Providers
All three hosts offer FREE 1-click Wordpress installs making them the best Wordpress hosting providers.